Broadcast Messaging is a feature of BloomText that allows you to send HIPAA-compliant text messages to a group of individuals at the same time.
Our customers use Broadcast Messaging every day to accomplish their goals, including:
Appointment scheduling
Collecting co-payments
Feedback surveys
Clinical updates
Broadcast Messaging includes the following capabilities:
Sending HIPAA-compliant SMS messages or emails
Include file attachments, images and/or emojis
Message delivery success reports
Allow patients to respond via private chats
Import/update patients with a CSV file
Watch the video below to learn how to send your first broadcast messaging campaign:
Subscription Requirements
Broadcast Messaging requires the paid SMS Messaging feature. To learn more about how to enable this feature for your organization, visit our article on our pricing.
In the sections below, we'll elaborate on a few important topics regarding Broadcast Messaging.
How to prepare a CSV File
The first step is to prepare a CSV file containing the contact information of the individuals you wish to message. At a minimum, this file should include the cell phone number of each individual. Additionally, you may include fields such as first name, last name, and more. The table below contains the fields you may use when importing your list of patients:
| Column Name | Description | Format | Required |
| --- | --- | --- | --- |
| phone | Phone Number | (###) ### #### | Yes |
| mrn | Medical Record Number | text | No |
| first_name | First name | text | No |
| last_name | Last Name | text | No |
| dob | Date of Birth | yyyy-mm-dd | No |
| email | Email Address | email | No |
When preparing your CSV file, we recommend using a tool like Google Sheets or Microsoft Excel. Both of these tools allow you to modify or create CSV files that you can then import into BloomText.
Make sure that you name your columns exactly as they are listed in the table above. For example, the header of the column with teh first name must be named "first_name".
BloomText recognizes most phone number formats. If your phone number values are in a different format than listed above, they should still be processed correctly.
What if some of my patients are already in BloomText?
If a row in your CSV file contains a patient that is already in BloomText, we match existing patients by phone number or MRN.
If a matching patient is found, the existing record is updated with any additional information that you included (such as first name, last name, or email).
What happens when a patient responds?
When a patient responds, the message will appear in your inbox. Patient responses are always treated as private conversations. This means that if you need to send a follow-up message to a patient, no other patients will view or receive your message.
Who else can view these messages and initiate campaigns?
Phone numbers are assigned to "teams". To control who is able to send broadcast messages and respond to patients, admins may add and remove users from the team associated with the phone number.
How do I analyze the results?
To view and analyze the results of your campaigns, you can export a CSV file from BloomText. Simply navigate to a phone number in the BloomText directory, and select the "Export phone logs" option.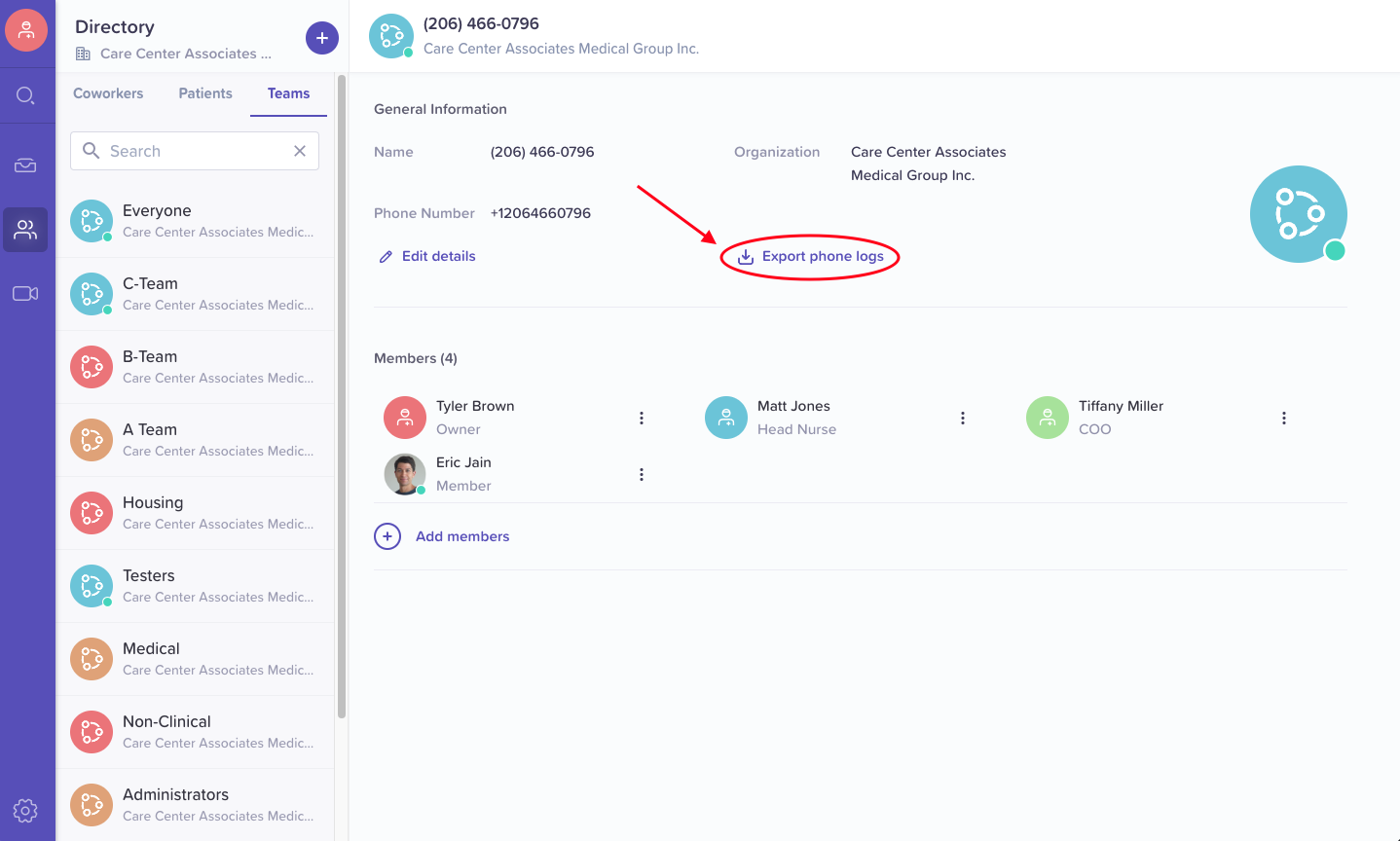 These CSV files include the following information:
| Column Name | Description | Format |
| --- | --- | --- |
| Sent | Message sent date | yyyy-mm-dd HH:mm:ss zzz |
| From | Your organization's phone number | +1########## |
| To | Patient's phone number | +1########## |
| First | Patient's first name | text |
| Last | Patient's last name | text |
| Dob | Patient's date of birth | yyyy-mm-dd |
| Email | Patient's email address | email |
| Status | Message delivery status | 'Delivered', 'Error' |
| ErrorCode | Error code if message delivery is unsuccessful | text |
| ErrorMessage | Descriptive message associated with error code | text |
Conclusion
You should now have a better understanding of how to do broadcast campaigns with BloomText. If you have any questions or suggestions, you can reach us at support@bloomtext.com.