With BloomText, you can securely send unlimited files, images, or documents to any email address or Fax number.
Sections in this article
When should I use this feature?
You should only use this feature if the recipient does not have a BloomText account. If they already have an account, you can send your document(s) in a chat by selecting the paperclip icon to the left of the message box.
Get a BloomText account
Before you can get started, you'll need to a BloomText account. You can sign up for free by clicking the link here. Once you have an account, make sure you are logged in.
Send your document(s)
To send a document, select the purple plus button at the top of the inbox, and select the file option. You can attach one or more files, and optionally include a message. When you are ready, press the "Send Document" button.
View progress updates
After sending your document(s), the BloomText Robot will keep you updated when certain events occur, such as when the documents are delivered, and when the recipient downloads the documents.
Recipient receives an email
If you sent your document via secure email, the recipient will receive an email from BloomText. The email contains a link, where they can access their documents.
Recipient receives a Fax
If you send your document via Fax, the recipient will receive a fax similar to the document displayed below. They can access their documents by typing in the link in their browser.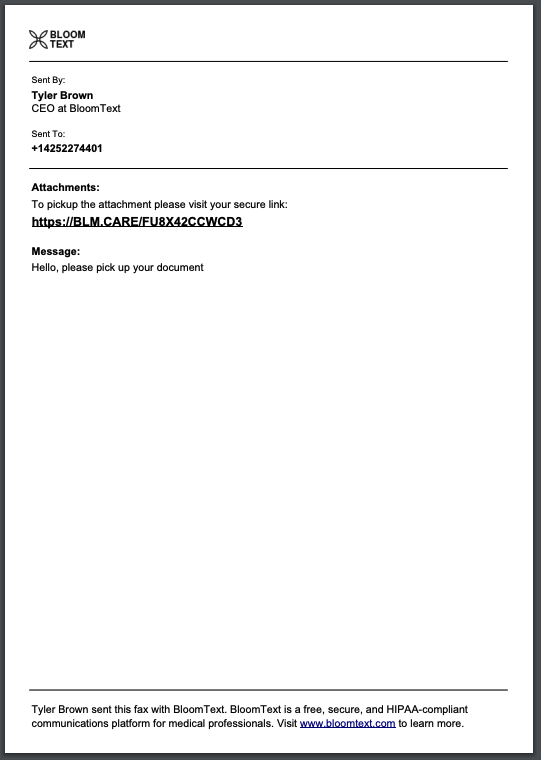 Inviting another organization to BloomText
If you find yourself sending documents multiple times to the same recipients, consider inviting them to BloomText. This allows you to send them messages as well.
To invite another organization to BloomText, have them signup via the link here, and you can create a conversation with them once they've joined the platform.