Broadcast Messaging is a feature of BloomText Patient Messaging that allows you to send HIPAA-compliant bulk SMS text messages to a group of individuals at the same time. Broadcast Messaging is a great way to securely and effectively communicate with your patients.
In the sections below, we'll walk you through how to launch your very first broadcast campaign. Alternatively, we've also provided a video that you can watch here.
Sections in this article
---
What is Broadcast Message?
Our customers use Broadcast Messaging every day to accomplish their goals, including:
Appointment scheduling
Collecting co-payments
Feedback surveys
Clinical updates
Broadcast Messaging includes the following capabilities:
Sending HIPAA-compliant SMS messages or emails
Include file attachments, images and/or emojis
Message delivery success reports
Allow patients to respond via private conversations
Import/Update patients with a CSV file
Subscription Requirements
Broadcast Messaging requires a BloomText Patient Messaging subscription. To enable this feature for you organization, please contact us at (415) 930-1200 or send us an email at support@bloomtext.com.
How to launch your first broadcast campaign
There are five steps to launching your broadcast campaign:
Prepare a CSV file
Import your CSV
Configure your broadcast message
Launch your broadcast
Analyze the results
We will now walk through each step in the sections below.
Step 1: Prepare a CSV File
The first step is to prepare a CSV file containing the contact information of the individuals you wish to message. At a minimum, this file should include the cell phone number of each individual. Additionally, you may include fields such as first name, last name, and more. The table below contains the fields you may use when importing your list of patients:
| Column Name | Description | Format | Required |
| --- | --- | --- | --- |
| phone | Phone Number | (###) ### #### | Yes |
| mrn | Medical Record Number | text | No |
| first_name | First name | text | No |
| last_name | Last Name | text | No |
| dob | Date of Birth | yyyy-mm-dd | No |
| email | Email Address | email | No |
When preparing your CSV file, we recommend using a tool such as Google Sheets or Microsoft Excel. Both of these tools allow you to modify or create CSV files that you can then import into BloomText.
Make sure that you name your columns exactly as they are listed in the table above. For example, for a the first name column, you need to use "first_name".
BloomText recognizes most phone number formats. If your phone number values are in a different format than listed above, they should still be processed correctly.
What if some of my patients are already in BloomText?
If a row in your CSV file contains a patient that is already in BloomText, the system is smart enough to use that existing patient instead of creating a new one. Specifically, the system will search for existing patient by using either the phone number or MRN fields.
If a matching patient is found in the system, any optional properties that you've included such as first name, last name, or email, will be used to update the existing patient in BloomText.
Step 2: Import your CSV
Now that you have prepared your CSV file, you are ready to create your first broadcast campaign. To do this, login to via BloomText either the web or desktop application, click the purple plus button, and select the Broadcast tab.
Once you are here, select the phone number that you want the messages to be from. By default, your organization's primary phone number will already be selected.
Next, upload the CSV file that you prepared in Step 1. You may need to wait a few moments for this process to complete.
Once the system has finished processing, BloomText will confirm that it has successfully imported your patients, and you are ready to move on to the next step.
What happens if my import fails?
Your import may fail for a number of reasons. The most common is at least one of the rows contains an invalid phone number. If this occurs. simply re-open the file in your CSV editor and double check that all the phone numbers are correct and your columns are properly labeled. Then, re-export your file and try importing it again.
At this point, if you are still receiving an error, you can send us an email at support@bloomtext.com and we will be happy to assist you!
Step 3: Configure the Broadcast Settings
Now that you have finished importing your file, you are ready to configure your message.
Add a chat title
Next, you need to give you broadcast a title. This title will not be visible to your contacts, and is simply a way for you to keep track of the name of your broadcast.
Type in a message
After that, it's time to type a message. This is the message that will be sent to each individual in your CSV file. Keep in mind that your message must not exceed 5000 characters.
Select Secure vs SMS
Next, you'll need to select whether you want your broadcast to be sent via "plain text" or via a "secure link". Use the "secure link" option if your message contains Protected Health Inforamtion (PHI). If your message doesn't contain PHI, you may choose to send your broadcast via "plain text" instead.
Sending messages over time
By default, this messages will be sent as soon as possible. Alternatively, you can enter a number such as "0.5" or "1" hour(s), corresponding to the total duration of time that you want messages to be sent over.
Step 4: Launch your broadcast
Now, double-check that all your settings are correct, and select the "Send Campaign" button when you are ready!
Where are the messages going?
After initiating the campaign, BloomText will begin sending out your messages. Depending on how many individuals you included in your CSV file, it may take some time before all messages are sent.
To see the messages as they are being sent in real-time, navigate to your inbox and switch to the phone number that you sent the messages from. Then, select the archived tab.
What happens when a patient responds?
BloomText auto-archives messages being sent via a broadcast. If a patient responds, the message will automatically be un-archived and will appear in your inbox. Patient responses are always treated as private conversations. This means that if you need to send a follow-up message to a patient, no other patients will view or receive your message.
Who else can view these messages and initiate campaigns?
In BloomText, phone numbers are assigned to "teams." To control which members have access to sending broadcast campaigns and responding to patients, admins may add and remove users from the team associated with the phone number.
Step 5: Analyze the results
To view and analyze the results of your campaigns, you can export a CSV file from BloomText. Simply navigate to a phone number in the BloomText directory, and select the "Export phone logs" option.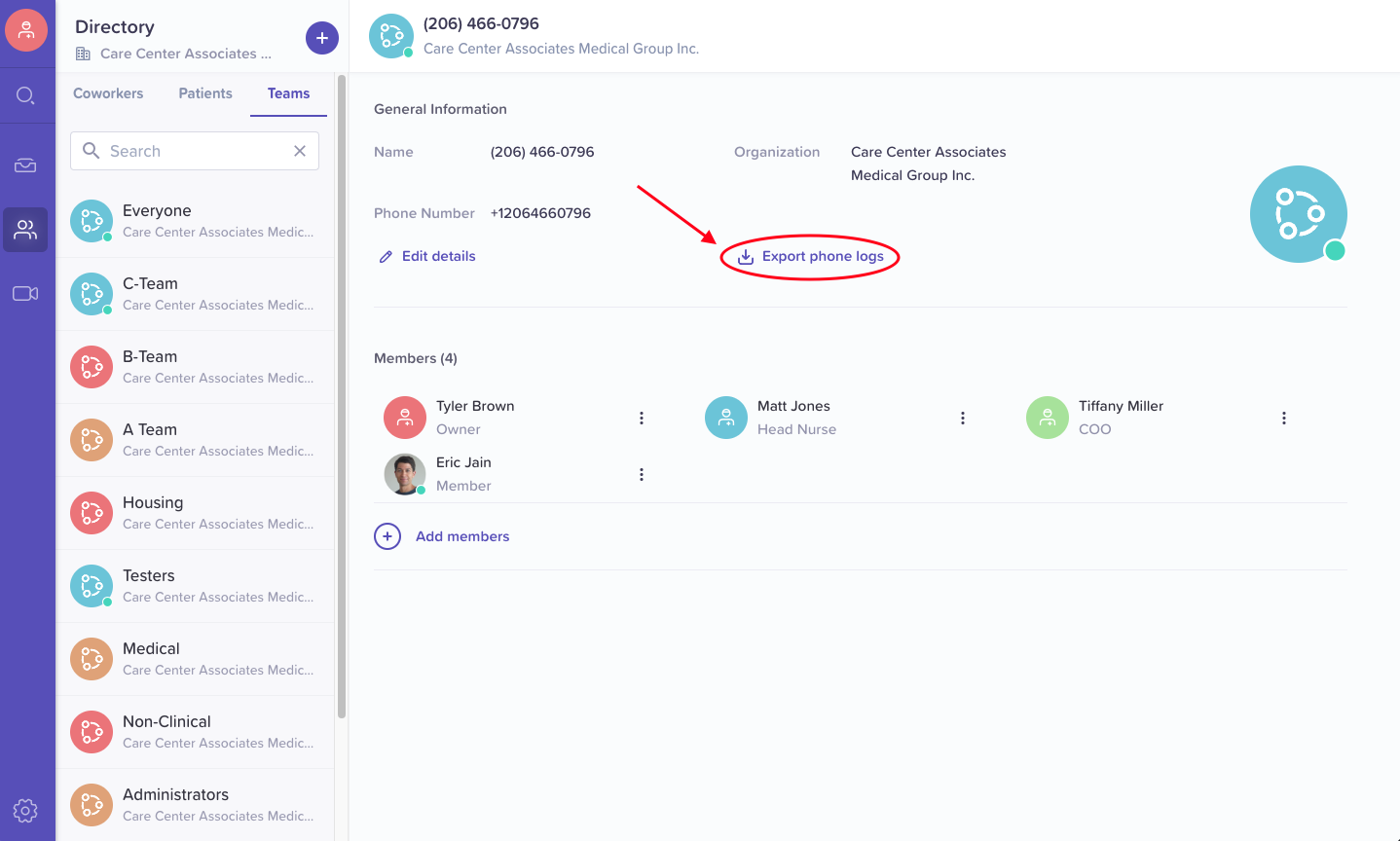 All CSV files allow you to view the following patient information:
| Column Name | Description | Format |
| --- | --- | --- |
| Sent | Message sent date | yyyy-mm-dd HH:mm:ss zzz |
| From | Your organization's phone number | +1########## |
| To | Patient's phone number | +1########## |
| First | Patient's first name | text |
| Last | Patient's last name | text |
| Dob | Patient's date of birth | yyyy-mm-dd |
| Email | Patient's email address | email |
| Status | Message delivery status | 'Delivered', 'Error' |
| ErrorCode | Error code if message delivery is unsuccessful | text |
| ErrorMessage | Descriptive message associated with error code | text |
Roadmap
We are currently working on several updates to the broadcast messaging feature that include:
An improved dashboard for managing broadcast campaigns
Ability to pause, re-start, and adjust the timing between broadcast messages being sent in real-time
More values available with exports, including message read time (only available for secure conversations)
We expect these features to be live in BloomText by the end of December, 2021.
Conclusion
You should now have a better understanding of how to successfully initiate broadcast campaigns with BloomText. If you have any additional questions or suggestions, you can reach us at support@bloomtext.com.